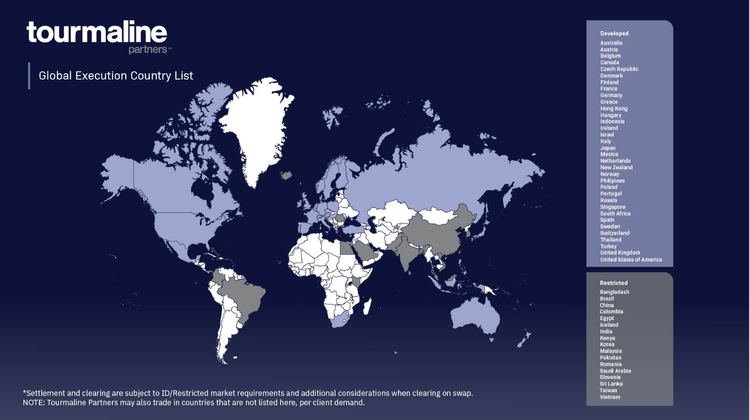 Tourmaline Partners recently commented on how Supplemental Trading – augmenting the reach of buy-side traders – has been our fastest-growing business and largest total addressable market.
Trading offshore markets has been a key driver of this growth.
When we talk to the buy side about how they trade offshore markets, we usually get two kinds of responses. For the largest players, it's "We've opened a regional office to trade abroad." For most other managers who don't have this luxury, the typical answer is "I handle it from home or we leave it with the sell side overnight and direct them to use a defensive strategy, such as a VWAP benchmark."
We have a better idea.
With experienced traders in the U.S., EMEA and APAC, Tourmaline Partners is ideally positioned to help investment managers maintain an on-the-ground presence in more than 50 global markets. In 2021, Tourmaline executed close to a half trillion in notional equity value, $100B+ of which was in APAC and EMEA. For U.S.-based funds, we provide customized trading solutions, delivered from a team of 12 experienced traders located in Europe and Asia, with senior operations teams that settle locally, 24/6, following the sun. This includes robust access to both high- and low-touch liquidity, research attribution or anonymity, direct client contact as needed, and CSA funding if required.
All this is delivered as a valuable lever to your in-house trading team and onboarded like any other broker. And this is mirrored for clients on the ground in Europe or Asia who need to trade North America.
To learn more about how we can help you trade foreign markets, please reach out to us at info@tourmalinellc.com or read more here.