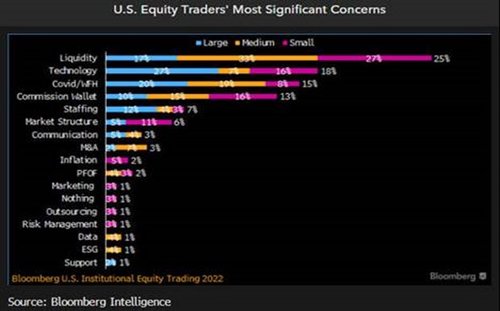 Tim O'Halloran, Managing Director at Tourmaline Partners, reflects on how buy-side trader sentiment underscores the value of "pure-play" supplemental trading:
"According to Bloomberg Intelligence's recent survey on U.S. Institutional Equity Trading, liquidity access, technology, COVID/WFH and managing commission wallets are the four most significant concerns of buy-side traders.
Tourmaline Partners' proven ability to address these challenges for investment managers of all sizes has been integral to our growth.
Tourmaline's scale, independent structure and sell side reach provide our clients unparalleled access to liquidity. Our team of seasoned traders, averaging 15+ years, with deep buy-side experience and access to the best sell-side tools and intelligence, augments our clients' own in-house resources. This is complemented by our ability to remunerate our clients' key research counterparties via CCAs, CSAs, attribution and aggregation – which no prime broker or custodian can replicate.
As global market forces drive demand for supplemental trading expertise, Tourmaline will continue to deliver solutions that help buy-side traders address their most pressing pain points. Scale, reach, expertise and the ability to manage commission wallets will be core to this mission."
To learn more, check out our resources for the buy side or reach out to us at info@tourmalinellc.com.